A New Director for the Mont-sur-Lausanne
First interview of Marlène, director of one of our Cap Canaille daycares
Our Mont-sur-Lausanne daycare had the joy to welcome a new manager recently. Let us present you her career path and her ambitions for Cap Canaille !

Hello Marlène, thank you for taking the time to meet with us and talk about your career path! To begin, tell us a little bit about yourself and the years leading up to you working for Babilou – Cap Canaille :
My family and I are from the area, but travel has always been a passion of mine. Before starting the ESEDE school (École Supérieure en Éducation de l'Enfance), I wanted to leave and spend some time discovering new places.
When I was 20, I left for Togo to join a humanitarian mission and work in an orphanage. I contacted an NGO and they organized a 6-month mission for me. It was an incredible experience. I found myself alone in an orphanage with 26 children, the youngest being 4 years old. There was no running water, food was very different and there was a big cultural gap.
The way the children were educated was opposed to almost everything I had learnt. There was no follow-up of children, older children took care of younger ones, and there was some physical punishment. In addition, the. adults did not trust them at all.
It was difficult for me to fit in and I felt uncomfortable with all this, so I asked to the NGO if it was possible to work alongside another volunteer. When this person arrived, it changed my experience. We were able to collaborate, to create new relationships with the locals and to start to set into motion more appropriate and elaborate activities for the children.
Their vision on the education of children is so different from ours. They believe children should obey adults without questioning. It is opposite to what I practiced. My time spent in Togo definitely shaped my values: to fight injustice and always be considerate and caring of children.
I went back for two months the following summer and, to this day, I am still in touch with my Togolese friends who give me news about the orphans.
What made you decide to work with children? 
I knew quite early that I wanted to work with the children. I started off with an internship in pediatrics, but quickly realized that working in health care and a medical environment was not for me. After a few stages in daycares and my experience in Togo, I was certain of my decision to work in this field. I started the ESEDE school in Lausanne, alternating classes and internships.  In our courses, I noticed that a lot of the pedagogical references were from Canada and as I knew another student from Québec, I became interested in the country and what it had to offer.
After graduating, I covered a few educators on maternity leave but I always thought about working in another country. I left for Montreal. First as a volunteer because I did not have the right visa then after only a few weeks, the daycare director offered me a fulltime job as an educator! I applied for a new visa and started working there.
How was your time in Montreal?
The daycare was pretty new and had no pedagogical guideline, so I collaborated with the director to set one up. It was a really fulfilling period in the daycare itself but also in the relationship with the families. The educators in Montreal are more a part of the families' lives than in Europe. We got invited to children's birthday parties and families came along during daycare outings. I discovered what "co-education" means. The experience was great for my self-confidence, because the director quickly gave me responsibilities and we had the chance to implement a lot of new ideas during the year and a half I spent in Quebec.
While still in Canada, I started looking for a new job in Switzerland and interviewed via Skype. I met the Cap Canaille HR manager during one of these interviews and when I returned to Switzerland I quickly did a trial day in the Mont-sur-Lausanne daycare. They were looking for someone to be head of the infant sector and I thought it matched pretty well with the responsibilities I had in Quebec. I was hired in May 2017.
In Montreal I also had the chance to learn a bit of English. We also speak English in our daycare and I think learning a new language through play is a great opportunity for children. Unlike school, the educator's approach to languages is not based on results. Children are free to experience bilingualism as they wish and to express themselves in the language that they feel most comfortable. We see beautiful results when educators encourage this positive learning environment.
At the end of my first year, the director at the time let me know that they opened a new position and were looking for an assistant director. Having not been there for a long time, I didn't think to apply but the director encouraged me to try. There was a real need for someone to work alongside her and with general administration. The position motivated me, because it meant that I would be included in the implementation of news projects and it meant that I would be have more to spend time on the educational approach and pedagogy.
And what happened after this promotion ?
A few months later, we welcomed a new director, and as she wanted to start off getting to know the team I was more focused on administrative tasks. Shortly after, she happily learned that she was expecting a baby. During her pregnancy I took on more and more responsibilities and, when we learnt that she would not come back after her maternity leave, I was asked to be the new director of the Mont-sur-Lausanne daycare. At first, I wasn't sure I should accept because I really liked working in the groups with the children.
Then covid-19 and the lockdown came, I had more time to think about it and I also got the chance to work more closely with the team during this time. Since we were unable to work with the children during lockdown, I got to see how it would be to be in the office and with the team; I really appreciated what we were able to create together.
After some more discussions, I received a call of our HR manager and childcare director (find her interview on our pedagogic methods here) and they told me I was chosen for the job.
What do you like about being a daycare director?
What I like the most… is the collaboration and communication, with both families and our team. Without the families, the daycare doesn't exist. Parents are the best ones to guide us on how to care for their children.
We all have key strengths and weaknesses, I think it's by acknowledging the skills of every person in the team that we are able to become better. These are my core values.
Generally speaking, I feel like Cap Canaille – Babilou allows you to be yourself and to develop our own skills and different workings methods. We also have the possibility to test and change what we think would be interesting in our daycare, depending of the particular challenges the children are facing.
The possibilities offered by continuous training are really interesting too. We meet up with other early childhood professionals who have really different backgrounds, come from different countries, etc.
We know that the educational field is forever evolving. We cannot simply "do this to get that". Because of this, we are constantly questioning ourselves and our practices. I like the fact that we are in a perpetual cycle of trying to do better, and we are doing this together.
My dad always told me that it was important to love what you do, and I really enjoy my work today. Yes, there're some impressive challenges, an added training to do, but I have the skills and drive so I believe am the right person for the job.
Which projects would you like to set up?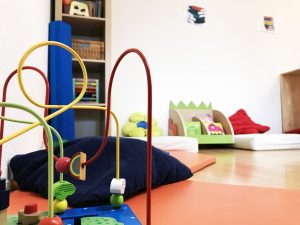 A lot, especially with regards to pedagogy! (consult our pedagogy page here) Ironically, during lockdown we had the time to move forward on existing projects. In our day-to-day work, sometimes there is less emphasis on pedagogy. It remains particularly important however: not only for the children's development but also to explain to the families the reasons behind what we do every day. We are not nannies. For example, when the children in the preschool group are given napkins instead of bibs there are reasons behind this decision. It is important to value the everyday work and the quality we offer related to it.
I am currently also working on the follow-up of our apprentices and interns, because I am an instructor, former student, and future graduate. I think that our training and mentorship is sometimes not as structured as it should be. It is easier for the ESEDE students, since I was one myself, but sometimes harder for our apprentices. I want to leave them room to grow while still consistently following their progress. We need to apply the same level of pedagogical theory in the mentorship of these young adults that we apply to the projects in our daycare.
I am particularly pleased to be able to have the time to set up projects that are important to me.  When someone enters the daycare I want them to feel happy to be there!
Thank you so much Marlène, for sharing your experience, your career path and information about the constant evolution of our Mont-sur-Lausanne daycare !