Intergenerational exchange for the preschool of our Mies daycare
On October 24th some of the children from the "Papillon" group of our Babilou Mies daycare went to visit a retirement home in Versoix. The collaboration between our daycare and the EMS Saint-Loup exists since 2016. Twice a year, children and residents of the retirement home come together for different activities:  cupcake baking, activities exploring the 5 senses, singalongs, story time or simply to  share a snack.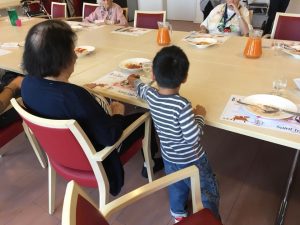 These activities, which allow the older and the younger generations to interact, are beneficial for both age groups. For children it not only promotes valuing elders, but it also builds self-esteem, helps them develop their social and emotional skills. The children from the daycare helped serve a snack they had prepared to the residents. For the elders, these meetings encourage them remember and share memories, transmit their knowledge and skills, and benefit from the children's energy. Interaction between generations aim to promote social diversity and bring knowledge and enthusiasm to all.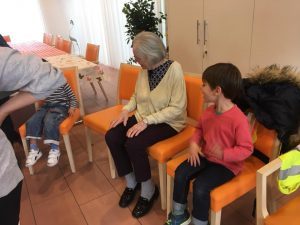 Visits and meetings are already scheduled for 2019: in February the daycare will have the pleasure to welcome their friends from the retirement home in daycare and in June they will meet somewhere by the lake… in the sunshine!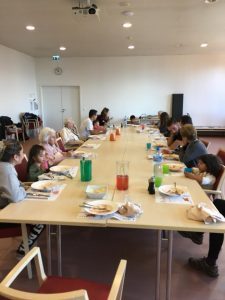 Some places are available in our Babilou daycare in Mies. If you want to make a request, click here.