Let's walk into the woods
Forest outing & pitching tents
Our Rolle daycare made the most of the last beautiful autumn days to organize an excursion with our prescholar group.
Children took the train, and then the bus to Coinsins, to finally walk through the forest for half an hour before arriving to their camping place.
They discovered their surroundings with some games before starting to pitch the tents! With the help of an authentic regional scout, who guided them all day, children have been able to plant pickets and install the fabrics.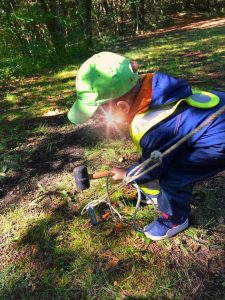 We care to allow the children to explore their own limits and abilities. You can start this yourself, with your children as well as those in your friends or families by offering the possibility to realize something by themselves. You should observe and intervene only if they really cannot do it, showing them how they could do it next time, or if they are in danger. We often underestimated what they are capable of.
After pitching the tents, the children enjoyed their meal and a well deserved nap. Then, they were on for new adventures! Walking between the trees, camp exploration and all the possibilities offered by the woods.
Our practical advices
Be careful of the weather conditions! Especially if you schedule to have a nap on site, depending of the temperature, you will need some isolating material and warm blankets.
If you are regularly in the nature, you could also download the free app EchoSOS. It will geotag you, display your country emergency numbers and send your localization directly to the relevant services.
Benefits for the children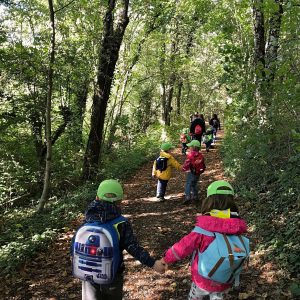 Naomi, one of the educators in our Rolle daycare, managed this outing. She was inspired by the label Youp'là Bouge, ensuring a regular physical activities in daycares. You can learn more on their website. Every fifteen minutes added contributes to reduce the accidents risks. It is one of the reasons it is so important for children to move a lot. Diversify the places where they go is also interesting. The forest develops new motor abilities in comparison with a playground per example.
We strongly encourage our team to start their own project, as in our Rolle daycare with this book, created by two professionals. It is really beneficial for them to exercise their creativity, taking care of a project from end to finish and develop their skills. And it is also great for children as they can enjoy novelty, the most recent pedagogical advances and are surrounded by accomplished adults.
We also encourage our team to go out as often as possible. Alternate between walks in the area of the daycare and bigger expeditions, which allow children to discover new places, transport modes, be used to go around. Theses outings can be decided by the educators or follow the theme of the moment, as this one, dedicated to dinosaurs.